Many people have a problem with their weight; some are trying to lose weight while others are trying to gain.
Everyone seems to want to change something about themselves. With the help of technology and the advancement of science, some people will even go for procedures to change their height. But the most common change that people make is trying to lose weight.
Losing weight is amongst the most popular New Year's Resolutions. Unfortunately, while many begin the race, few are willing to see it through to the finish line.
Have you been looking for practical and effective ways to lose weight? Well, I'm here to tell you it's not only possible but losing weight can be fun too. Through meal planning, you can easily achieve your weight loss goals.
Meal planning is important to a person that's trying to lose weight, simply because it takes away a lot of the guesswork about what you should eat at given times of the day. The problem is, not everyone has the time and patience to sit down and draft a meal plan based on their weight loss goals.
When I started trying to lose weight, I found that having a meal plan really helped. I created the meal plan myself based on my calorie requirements and the food I liked.
If you require help with calculating your calories, you can use our easy-to-use calorie calculator.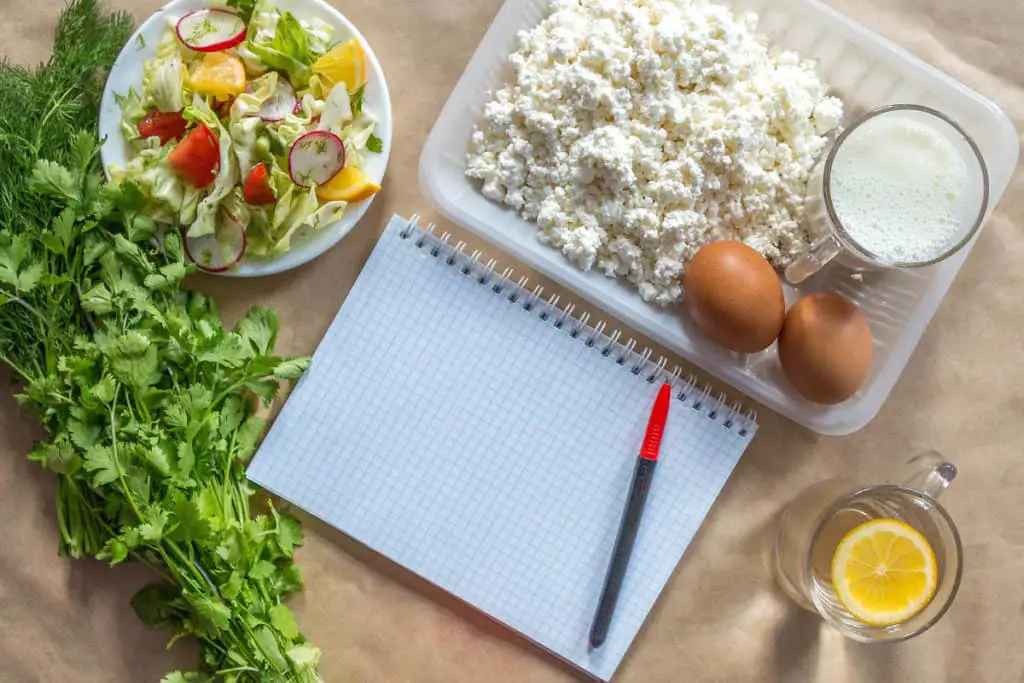 Coming up with Meal Planning Ideas Does not have to Difficult
If you're one of those people who've always wanted a meal plan but have never had the time to draft one, you've come to the right place. Meal planning is easy if you know where to start, and by the end of this post, you will have learned enough to create your own meal plan easily.
Now, in an age where anyone can quickly produce information and cook up facts, it's easy to get the wrong information. In part, misinformation has a considerable role to play in the misconceptions you might have about meal planning.
Here are a few resources to help you with your meal planning.
Metabolic Cooking. This book contains quick and easy recipes.
The Fat Burning Kitchen. You can find out more in my review of the Fat Burning Kitchen Book.
The 28 Day Keto Challenge. You can find out more in my review of the 28 Day Keto Challenge.
Before we look at these meal planning ideas, I'd first like us to go through what constitutes a meal plan.
Here are the Five Essential Elements of Creating a Meal Plan.
Balance – When you think of creating a meal plan, you may think you're being forced to give up pizza and tacos for veggies. This, however, is not the case. An effective meal plan needs to be balanced. While that does mean you may have to include more veggies, it doesn't mean you have to give up foods you love. It's all about finding the balance and incorporating all food groups.
Calorie management – Again, at the mention of meal plans, many think they automatically have to reduce the number of calories taken. Once again, this is not true. Having a meal plan that works means carefully distributing and managing calory intake at different times of the day.
Moderation – As the adage goes, too much of anything is poisonous. While this applies to junk food, it is also applicable to a lot of the food we consider 'healthy.'
Variety – If you keep eating the same thing, you'll likely grow tired of it very quickly. With the meal ideas below, you'll learn how to create a diversified plan.
Sustainability – Some people create eccentric and unrealistic meal plans that don't end up working. From this, they conclude that meal plans don't work. A meal plan should be practical; include the items around you, the ones you can easily access. With this, you'll have an easier time sticking to the plan.
Now that we've gotten the obstacles out of the way let's look at ideas to help you create your perfect meal plan.
Remember to treat these ideas as suggestions, not as rules or guidelines. Everyone's diet preference is different, so feel free to add or remove meal ideas as your weight loss goals dictate.
10 Awesome Meal Planning Ideas for People Who Are Trying to Lose Weight
Before we get started, let's talk about a common misconception about weight loss diets. Most people make the assumption that for a diet to be considered healthy, it has to be boring, flavorless, and downright unappetizing. That's not true. I know because this is what I used to think.
Losing weight is a process that demands consistency and persistence. A meal plan allows you to plan all your dishes ahead of time, which means you can ensure that all your meals are well balanced and healthy. That doesn't mean that you have to swear off everything that's tasty and appealing.
Of course, you should not be adding things like processed foods, pastries, or excessively sugary or fatty foods into your meal plan. It should contain only healthy, preferably organic foods that are rich in nutrients.
Calorie counting is an exercise in futility as dietitian Abby Langer, R.D., clearly explains here (https://www.self.com/story/counting-calories-not-necessary-weight-loss), also don't forget to think about portion sizes. It's all too easy to load up your plate and consume more calories than you require
With that said, here are ten meal planning ideas to help you create a meal plan for weight loss that you will love.
1. Always Have Ready-to-Use Ingredients
First things first, you're going to need a well-stocked pantry. Sounds obvious, yes, but the importance of a full pantry cannot be overstated, especially if you intend to stick to your meal plan for longer than a week.
Have a variety of ingredients—fresh, dried, frozen, etc.—but also make sure that you have enough ready-to-use ingredients. They come in handy when you need to whip up a quick dinner. More importantly, they give you a lot of freedom of improvisation. You can elect to use simple dinner recipes, for instance, so that when the need arises, you can alter or modify the meal as you wish.
It's always better to have ingredients that are easy to assemble. Dinner becomes a chore when you spend hours alone on the preparation, so having ready-made ingredients on hand is a huge advantage.
The fat-burning kitchen book goes into detail about buying the correct foods. You can read my review of 'The Fat Burning Kitchen'.
2. Need a Carbohydrate? How About Pasta?
Every balanced meal must have a portion of carbohydrate-rich foods, no matter how tiny it is (with the exception of most keto diets, of course). When it comes to carbs, few dishes come close to being as versatile and as tasty as pasta.
Pasta is affordable, can be prepared in a hundred different ways, and is always tasty and filling. A great meal prep idea is to include a pasta night (or two) into your meal plan. Just make sure it is whole-grain pasta (more fiber, less empty calories), and you are good to enjoy delicious pasta-based meals without affecting your weight loss goals.
The good thing about pasta is that it can be paired with different sauces, meats, and vegetables, so it never gets boring. It is possible to have two pasta nights that are entirely different although just as tasty and nutritious.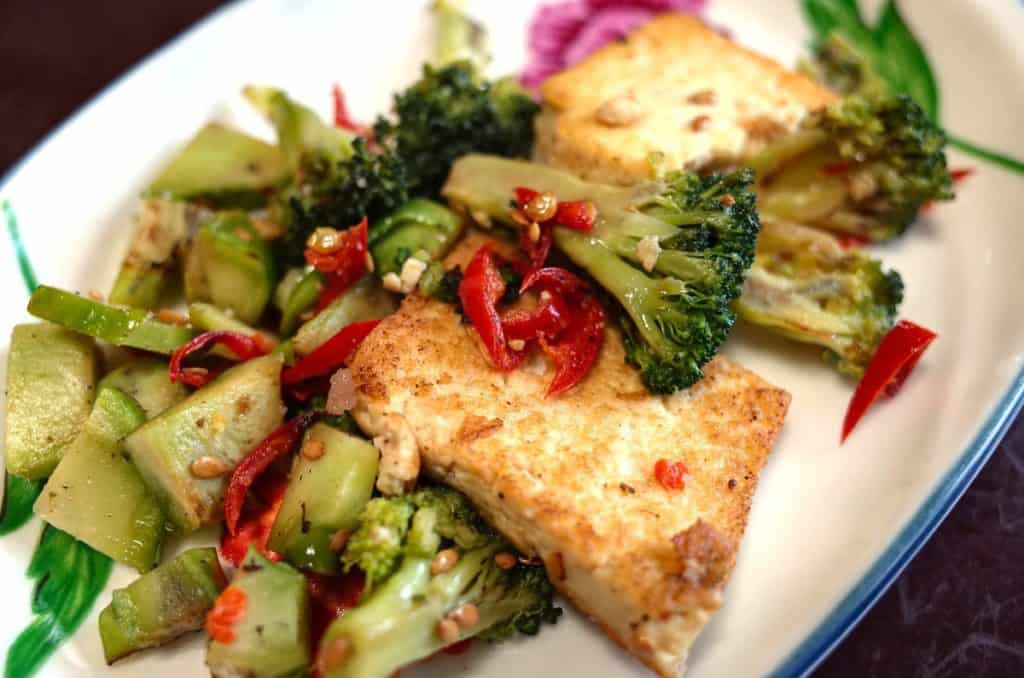 3. Eat Vegetarian At Least Once a Week
It's not something that all meat lovers will agree with, but just for the sake of keeping your meal plan interesting and not entirely monotonous, consider going vegetarian/vegan at least once a week. I must admit I struggle with this one myself.
In lieu of meat proteins, opt for leguminous grains like beans, peas, and nuts. Tofu is also an interesting choice, not just because it's vegan, but because there are literally over fifty ways to prepare it (https://www.delish.com/cooking/a1192/how-to-cook-tofu/).
Vegetarian/vegan night is also a fantastic opportunity to try meatless curry dishes. Alternatively, you can order cultural vegetarian/vegan dishes. To spice things up, order vegetable-based Chinese, Thai, Vietnamese, Indian, or even Ethiopian. The new experience will certainly erase any thoughts of meat (or the lack of it) in your meal.
4. Freezer Meals Can Be Very Handy
Despite what chef Ramsey might have led you to believe, there's nothing wrong with having a few frozen meals up your sleeve (or freezer in this case). If you can prepare anything in bulk ahead of time, please do so. You will be happy you did it.
This is what I do for my lunches, I make them on a Sunday for the week and freeze them. I take the lunch out in the evening before and let it defrost to in the fridge overnight. I warm up my lunch at work.
Freezer meals can save you from a night of hectic meal preparation. For example, when lasagna night comes around, you don't have to cook it from scratch if you already have a frozen batch in the fridge. Things like pasta sauce can be prepared in bulk and stored for later use.
Unless you're certain that you will always have the energy and the time to prepare everything on your meal plan, you should have plenty of frozen meals on standby—just in case you find yourself having one of those lazy nights when you don't want to cook.
5. Don't Underestimate Meat and Vegetable Dishes
You can't go wrong with a classic meat and veggie dish. It's not just timeless, simple, and wholly nutritious; it is also quite versatile if you know what to change and when to change it.
For the meat, you should at least have some variety. Stock up on lean cuts of beef, chicken, and fish. A pork dish every once in a while won't hurt either, but pork tends to be a bit too fatty, so don't make it a habit. Always experiment with different marinades too to keep things interesting. You will be surprised how many ways there are to make a piece of meat, even tastier.
Preparing the vegetables is easy—steam or bake them. As for the meat, you'll do well to incorporate a couple of cooking techniques into your meal plan. If you barbecue it this time, bake it next time, then pan-fry it next. The trick is to keep switching them up to make every meal unique without straying outside of your meal plan.
6. Get a Crockpot or Pressure Cooker
A slow-cooker is one of the most important pieces of cooking equipment you can have in your kitchen. Nothing compares to a bowl of chili on a cold day or even slow-cooked shrimp or meatballs. Besides, how many times do you get to throw everything into one pot and walk away until it's ready?
Here's a tip: try to schedule your slow-cooked meals so that they align with your busiest nights. These meals don't need as much attention and are relatively easy to prepare, so you'll do just fine preparing them even when you have little time on your hands.
If you don't already know it, there's a lot you can achieve with a Crockpot or a pressure cooker. If you're short on ideas, try this simple, slow-cooked shrimp boil (https://www.foodnetwork.ca/recipe/slow-cooker-shrimp-boil/20226/), which is as easy to prepare as it is tasty.
7. Schedule an Eat-With-Your Hands Meal
None of us knows why, but eating with your hands can be thoroughly satisfying. As such, you can include a burger, taco, or pizza night into your meal plan. Make this at least once a week, and every week, switch things up with different meal ideas. You can have pizza this week, then barbecue the next, and perhaps squeeze in a taco Tuesday every so often to keep things interesting.
You will have to make healthier homemade alternatives to these foods because traditionally, fast foods are not known for their nutritional value.
Consider whole-grain buns for burgers and wheat substitutes for your pizza dough and tacos. Prepare your patties, toppings, and fillings using healthier ingredients so you can enjoy your meal guilt-free.
Should you want to try something different, here's a keto-style pizza (https://www.savorytooth.com/keto/pizza/) that you'll find to be particularly nourishing and tasty.
8. Stock Up On Soup and Salad Dishes
These days, the question isn't whether you can turn a soup or a salad into a hearty meal; the question is, what you settle for. There's so much to choose from these days as far as soup and salad dishes are concerned. Soups are great for cold weather, and whether consumed alone or paired with a crusty piece of bread, they rarely disappoint.
Salads are also great meal options. You should eat an elevated salad at least once a week, just to keep your palate interested. There are some pretty fancy salads out there, as well as some simple, straightforward ones, so you will never run out of options.
The only problem I have, in the winter when the evenings are darker and it's colder I don't find it easy to want a salad. In the summer it's so much easier to make a salad.
This is one area of your meal plan where you'll especially appreciate having stocked up your freezer. Bone broth, chicken broth, and veggie soups can be prepared beforehand and stored for use later, which means soup nights won't be a hassle at all. Salads are easy enough to prepare, and most of them are eaten raw. Having a well-stocked pantry and fridge will make soup and salad nights a breeze for you.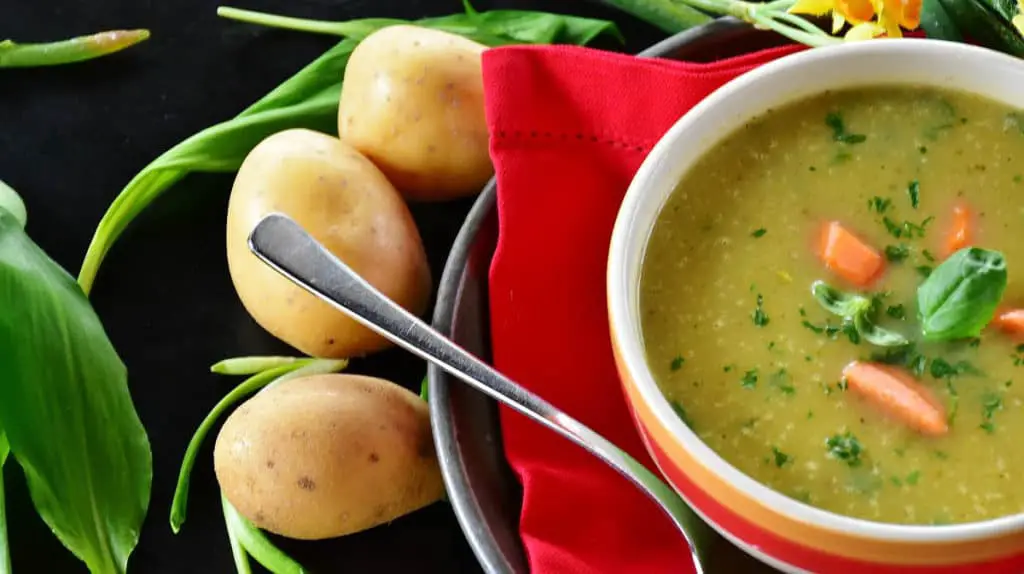 9. Plan a Leftover Night
At the end of the week, while taking stock of what you need to buy for your next week of meals, you should organize a leftovers night. What's a leftovers night, you ask? It is a night where you turn the leftovers of the week into a wonderful meal.
It doesn't have to be fancy, the main point of leftovers night is to eat healthily. There's also the benefit of clearing your fridge and/or pantry of any leftovers you won't be needing, so it's a win-win for both you and your grocery list, which can stay the same week in, week out.
Just because it's leftovers night doesn't mean you should pig out on whatever's available. Watch your portion sizes, especially on nights like these.
10. Stick to Healthy Ingredients
The key to making healthy meals time and again is to have good ingredients. Visit the grocery store every time you need something fresh, and stock up on items that can live in the pantry, such as canned beans. Always have ingredients like fresh cilantro, hummus, and yogurt in ample amounts, but don't overstock—these things don't have the longest shelf lives.
If you want to eat healthier, make sure you use fresh ingredients all the time. This is especially necessary when it comes to stuff like leafy greens, which can become considerably less nutritious if they stay in the freezer too long. Your fruits should also be fresh, whether you consume them once a day or pack a slice of apple or orange with your kids' school lunch every day.
Lastly, try to avoid overly processed ingredients whenever you can. This will not always be possible in some cases, but with things like steak, canned fruits and berries, and low-fat milk, there's always room for concessions.
Conclusion
Hopefully, these meal planning ideas will help you come up with meals to help you lose weight. Apart from dinner which is a hard meal to plan in our house, breakfast can be hard as you're rushing around.
I like to make overnight protein oats, I make mine in the evening and leave them in the fridge. Here's my recipe.
Also on a Sunday, I make a batch of protein brownies which help me not to buy unhealthy snacks. Shop brought protein bars can be loaded with sugar and they are expensive, you can find my recipe here.
I would love to hear from you and if you have any meal planning ideas, please feel free to leave a comment.
Good luck.
References Used in This Article
Meal planning is associated with food variety, diet quality, and body weight status in a large sample of French adults.
A simple meal plan emphasizing healthy food choices is as effective as an exchange-based meal plan for urban African Americans with type 2 diabetes.