A healthy life is a wealthy life! Every year, countless people endeavor to get in shape, exercise, and lead healthy lifestyles. This resolution, however, is soon forgotten by most. Numerous factors contribute to people abandoning their healthy lifestyle goals. Among these reasons is the lack of proper guidance.
A professional fitness and exercise expert is the solution to help people achieve their healthy lifestyle goals. Acquiring a National Exercise & Sports Trainers Association (NESTA) certificate is the best place to start if you want to become a personal fitness trainer.
You may be asking what a NESTA certificate is, who can apply for the training, and how it would benefit you to become a leader in the fitness industry. Below is a comprehensive guide to NESTA certification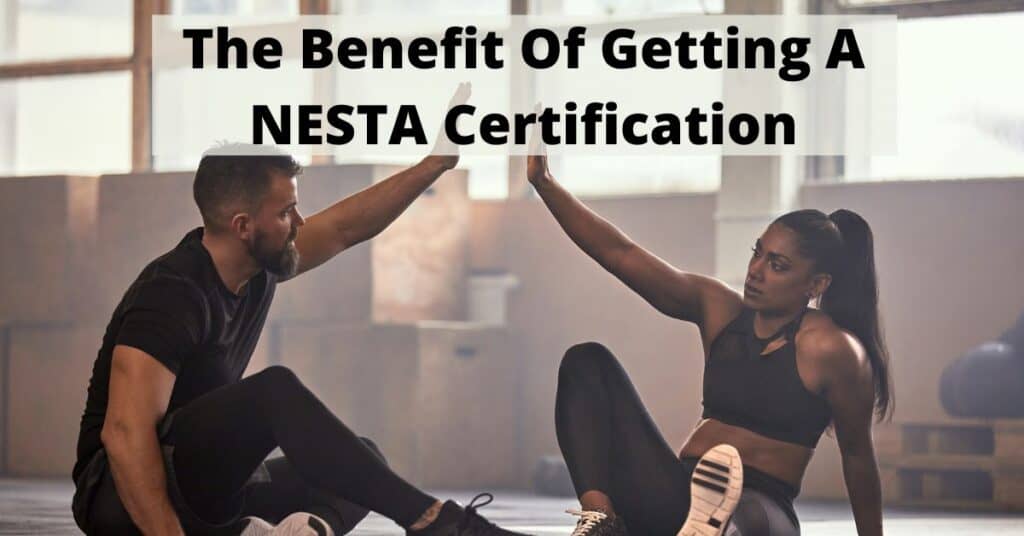 What Is A NESTA Certificate?
A NESTA certification is one of the most common personal fitness training certificates recognized by most bodies and institutions. The NESTA personal fitness trainer certification is ideal for anyone looking to start a career as a personal trainer.
Suppose you are passionate about exercise and fitness and wish to grow your knowledge. In that case, the NESTA-certified personal trainer course will give you the relevant skills and credibility in the fitness industry. The course revolves around practical aspects that have been proven effective and productive.
Personal trainers are in great demand as more people are conscious about their health and fitness. This highly sought-after and respected fitness certification will open doors for you to grow your career and practice. But more importantly, you'll actively help improve your clients' fitness.
Who Should Consider Getting The NESTA Certificate?
Do you want to become a certified personal trainer? Are you passionate about exercise and fitness? These are the essential qualities of a NESTA certificate holder. But unfortunately, fitness is a global problem as most people think they require intricate equipment and countless hours of exercise to become healthy.
Closer to home is an even bigger problem, with statistics revealing that more people are becoming overweight or obese. If you are passionate about fitness and overall health, a NESTA certification will aid you as you help people to lead healthy lives.
The certification is also a great way to get into the fitness industry. The truth is that the fitness industry is a highly competitive one. However, many trainers lack professional training and certification. With a NESTA certificate, you'll have an easier time building a reputation in the industry as well as building a client base.
What Are The Benefits Of NESTA Certification?
Before applying to become NESTA qualified, evaluating how it will impact your fitness journey and overall career is essential. Some of the advantages of a NESTA certification are;
Global appeal – A NESTA certificate is recognized around the world. With the training and certification, you can build your practice anywhere. In addition, you can also pursue the certificate even if you live in a remote part of the world.
NCCA accreditation – The National Commission for Certifying Agencies (NCCA) is the premier agency tasked with setting professional certification standards. NESTA is accredited by the NCCA, giving any certificate holder legitimacy and credibility.
Certificate validity period – As a personal fitness trainer, you're required to keep up-to-date with certifications and renew them after a certain duration. Most certificates have a two-year validity period. A NESTA certificate is valid for four years, saving you time, money, and resources.
Lifetime support – As a NESTA certificate holder, you'll have unlimited access to support and related resources from the team. Feel free to reach out whenever you have a query or need support.
Practical training – One of the key features of the NESTA training is how it takes theoretical plans and breaks them down into actionable and practice lessons. This training will help you have feasible results whenever you train a client. The proven results will also help you grow your practice.
What To Expect During NESTA Training And Certification
After reaching out to the NESTA/spencer institute team, you'll be assisted with applying for the course and the requirements. So, what should you anticipate after applying for the course?
You'll have instant access to all training materials and resources, which includes a detailed and highly-engaging digital manual and over 10 hours of training videos. You can access the training virtually and study at your own pace. In addition, these resources are compatible with most devices, so you don't have to worry about studying from your phone, laptop, or tablet.
The course has a study plan and checklist to help maintain consistency and improve your chances of passing the exam. The checklist is broken into 30, 60, and 90 days to help you know how you are progressing. In addition, the checklist makes it easy to keep up with the course requirements and examination time.
Exams can be a little scary at times. To help calm your nerves, you can take the NESTA-PFT practice exam. The practice test includes all the major aspects you'll be quizzed on during the final examination.
Taking the practice exam will familiarize you with the format, styling, and expectations of the final examination. Moreover, it will help you be at ease with the examination, which can significantly boost your overall performance.
After achieving your certification, you'll be ready to start your personal fitness trainer career. You'll be sent a copy of the certificate with all the official marks, checks, signatures, and seals. At this point, your career is set to go! You can professionally train clients from all over the world.
What Next After Training?
The NESTA training course equips you with relevant and practical skills to succeed in the fitness industry. The NESTA includes the fitness and exercise requirements for different body types, ages, genders, and even people with special needs. The extensive nature of this training ensures you can work in nearly any fitness industry sector.
After receiving your NESTA certification, you will also be able to design and curate a training program for your clients. The program could differ depending on your clients' needs.
In addition, the training means you don't have to seek employment as you can start and grow your career since you have all the information, certification, and other requirements.
How Do You Get Started?
Are you excited to start the NESTA certification process? Great! You can register for the Personal Fitness Trainer course using this link. Moreover, if you have any questions or need clarification on anything regarding the NESTA training, you can contact the NESTA support team.
This is the push you need! Take action today and start the process of becoming a fully certified NESTA personal fitness trainer certificate.