These healthy oats and honey breakfast bars are easy to make, and you can bake them to your liking. The oat and honey bars are great for those mornings where you just need to grab something quick and healthy.
When I'm looking for healthy alternatives to shop brought bars, I always try and make them enjoyable for the whole family, which is not easy.
These Oats and Honey breakfast bars are an excellent alternative to the nature valley granola bars.
Take my protein brownies, for example, my eldest and I love them, but my wife and youngest don't. Check out my protein brownie recipe.
The healthy oats and honey breakfast bars go down a treat and usually end up in packed lunch boxes as well. Just wrap them in a piece of paper towel.
You don't need to keep these bars refrigerated as they can be stored in an airtight container. The oats and honey bars can last up to a week. But I've found they never last a week and end up making another batch around the middle of the week.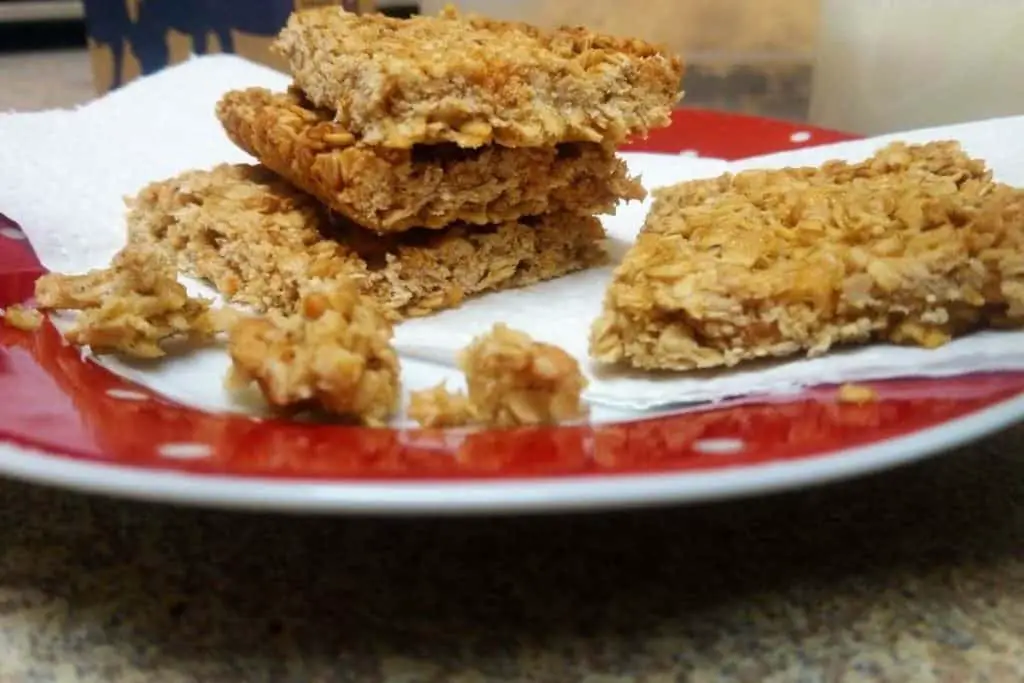 Oats and Honey Breakfast Bar Ingredients
I like quick and easy recipes with as few ingredients as possible. To make these bars, you only require eight ingredients.
Oats. Just some plain old rolled oats, not the instant oats
Rice Crispy Cereal
Oat flour. I don't buy oat flour; I make my own. Just place some oats into a blender or a food processor; only take a few minutes
Baking powder/baking soda
Salt. I like to use Himalayan or sea salt. The salt is optional
Honey. The honey adds sweetness and helps bind the bars together
Olive Oil. I like to use olive oil, but you could use coconut or vegetable oil. I do recommend olive oil
Vanilla Extract
How to Make the Healthy Oats and Honey Breakfast Bars
It only takes about 20 minutes to prepare and bake these bars and another 20 minutes for them to cool.
I use a 13 x 13-inch baking tray lined with baking parchment; it allows for the perfect thickness of the bars and the quickest cooking time. It only takes between 10 – 12 minutes.
Oats and Honey Breakfast Bars
These Oats and Honey breakfast bars are an excellent alternative to the nature valley granola bars.
Ingredients  
3 3/4

cups or 340g

rolled oats

3/4

cup or 25g

Rice Krispies

2/3

cup or 80g

oat flour

3/4

tsp

powder baking/soda

Pinch

of salt

this is optional

2/3

cup or 200g

honey

1/4

cup or 60g or 70ml

olive oil

2

tsp

vanilla extract
Instructions 
Preheat the oven to 150 C or 300 F

Line the baking tray with baking parchment and set it to one side

Add the oats, Rice Krispies, oat flour, baking powder, and salt into a large mixing bowl. Mix all the dry ingredients together

Add the oil, honey, and vanilla extract, stir until all the ingredients are combined, and there are no dry ingredients left

Pour the mixture into the baking tray and flatten down with the back of a spoon, making sure you get into the corners

Bake for 10 – 20 minutes or until golden brown

Use another baking try to compress the mixture, this will help compact the bars when they are cooled

Leave to cool in the tray for 10 minutes

Transfer the bars still on the baking parchment to a cooling rack

Once the bars are cooled, cut them into squares and store them in an airtight container
Notes
As I mentioned above, it is easier to make your oat flour using a blender, food processor, or coffee grinder
I find it easier to measure the oil in a cup and add it to the mixture and then measure out the honey; this way, the honey does not get stuck and pours a lot easier
Make sure the mixture is well mixed. If you don't once the bars are baked, you could end on with a powdery bar
Don't leave them to cool too long in the tray. I've found the heat from the tray will continue to bake the bars. Mine tuned out a bit too crunchy when this happened to me
Play with the baking times to find the best texture for your bars
Maybe keep the bars out of reach while they are cooling. In my house when you return to check on them, I find corners missing. Lol
I've adapted this recipe from Five Heart Homes.