As parents, we should be encouraging our children to have some fun and play. Playtime outdoors is increasingly growing tougher with each day. This is particularly true considering how much time they spend using electronic devices. Moreover, failing to exercise also leads to obesity, a condition that has in recent times becoming rampant in kids. You might want to think about a kids' fitness tracker.
If you want to find a new way to encourage your children to be more active, you can either create a reward system, a game or go for an app that gets them going. Or better yet, you can subsequently have all these three in a distinct kids' fitness tracker.
A kid's tracker is a wearable gadget that can aid them in sleeping better, moving more, and enhancing their general health. In essence, fitness trackers for kids can be an interesting way to promote activity levels. This way, kids can create positive relationships both with their body image and overall health.
Thanks to science, motivating your kids has never been easier. The technological advancements over the years have produced numerous cool gadgets that can play a significant role in motivating them.
Naturally, children adore fancy stuff and an activity tracker is a fantastic way of engaging them in outdoor activities. Kids can now unlock achievements, choose avatars, or even engage in a fitness challenge with opponents, depending on what tracker they have.
If this sounds like something that you should get your kid to help them start moving, this guide has everything you need to help you choose the most appropriate one for your kid. And the top 3 best fitness trackers to assist you effectively determine the best fit for your kids.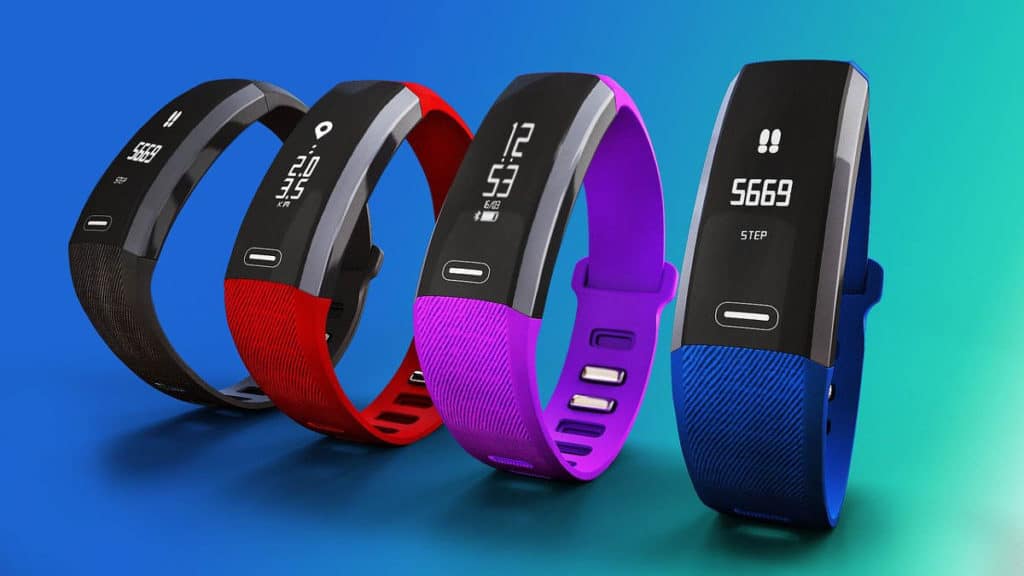 How Much Exercise Does a Child Require
Typically, any child aged 6 years and over requires spending about 60 minutes daily. Most of the hour should be engaging in moderate or vigorous physical activity. Children between the age of 3 -5 should physically active throughout the day.
Now, you can use an exclusive kids' fitness tracker as an effective incentive to ensure your kids engage in various physical activities.
5 Tips to Choose the Best Kids' Fitness Trackers
In recent times, there has never been such a flurry of fitness tracker selections. However, with an abundance of options comes some confusion. Ideally, the truth is that with the multiple fitness tracking gadgets available now, it can get quite tricky to determine and decide the best kids' fitness tracker for your child.
Not that we usually have no idea of what to do, but the problem is the massive quantity of kids' fitness products to help your kids get healthier. So, how do you ensure that you pick the best kids' fitness gadget for you?
Here are 5 tips and recommendations to guide your decision and help you choose one:
1. Assess Their Compatibility With Your Phone
Typically most kids' fitness gadgets are made to easily synchronize with Smartphones. As such, when making your decision, ensure that you pick one that is compatible with your Smartphone.
In essence, most trackers feature Android and iOS synchrony.  For example, it is well known that an Apple Watch can only operate with iPhone devices.
2. Age: What Device Best suits Your Kid's Age?
Most fitness trackers usually outline their distinct intended kid's age groups. However, this is not usually the case with all gadgets. As such, you need to ensure that you are aware of the age group that a fitness tracker is designed for before you can choose a product. Don't just go for what is on offer; go for a gadget that suits your kid's age group.
Usually, there are three common age groups mainly:
Preschool
For this age group, the trackers are rather basic and uncomplicated. These trackers comprise a traditionally large screen that displays images and icons since kids have not achieved independent readers' capacity yet. Nonetheless, games not only encourage them, but they also reward their activity with points or rewards especially when they accomplish their activity goals.
Elementary School
Since kids around this age group are usually independent readers, their trackers are therefore more advanced and interactive. These gadgets can usually include alerts, reminders, and encourage children to create their own goals. While the kids might initially require assistance from adults to better understand the app, they will, however, adapt quickly to the trackers.
Middle School
Finally, these kids' trackers closely resemble the gadgets adults use. Therefore, they boast enhanced levels and features of the app interactions. What's more, since these devices require to be set up courtesy of a guardian, they are regarded as more secure compared to the use of adult trackers for these kids. Also, since they log relatively more data, they also work better for kids who love playing sports.
It's also worth mentioning that some trackers use age to calculate some of the information. If a service requires the child to be over 13 and they are under 13. This could produce some incorrect readings.
3. What Features Does the Tracker Have?
Considering the vast number of features various fitness trackers boast, it is essential that you choose the fitness tracker that has the appropriate features to suit your kids. While virtually all kids' fitness tracking gadgets offer two key elements, calorie-burning, and fitness tracking.
Nonetheless, it is not hard to understand that the kids will delight in devices that feature an interactive platform and fun games.  So, what are some of the features you should be on the lookout for?
Water-resistance
Essentially, fitness trackers afford varying water resistance levels. However, only a few rank as 'pool friendly' which means they are made to cope with full water immersion for long time periods. Usually, other fitness trackers are designed to handle liquid and sweat although their distinct internal elements can be destroyed of a kid wears them in a pool or shower.
Alerts/reminders
reminders and alerts represent another approach to ensuring kids remain onboard with their fitness goals and physical activities. Ideally, these notifications usually go off in cases of extended inactivity periods. They can also be set up to remind the kids to finalize their chores or goals. Typically, they may also function as alarms or timers.
Sleep tracking
Various kids' trackers boast sleep-tracking abilities. Usually, these features log how restless or active your kid is particularly while asleep. What's more, they also offer graphs and charts about heart rate while resting, evaluate sleep patterns, and monitor movement levels. As such, if you have a kid with difficulty sleeping, this feature is definitively worth checking out. This is to help determine ways of enjoying more restful sleep.
In essence, when these devices are recording your kid's sleep, they usually watch for the movement by use of a 3-axis accelerometer but to a rather more sensitive extent compared to how they record it in the daytime.  In fact, some gadgets report distinct graphs indicating the various times based on a motion such as the time you were either deep asleep or light asleep. Also, there are dedicated kid's sleep trackers available which you can attach to their mattress although they operate similarly to wrist-based trackers.
Battery-life
Typically, kid's trackers are either powered by extended life or rechargeable batteries. In most cases, the gadgets that are designed for younger kids usually comprise extended-life batteries that can ideally last between 6-12 months. Alternatively, for the older kids, the trackers designed to suit older kids usually comprise rechargeable batteries and therefore need frequent docking (at least once every week) to get fully charged.
4. Price: Determine How Much Will You Spend on Your Kid's Fitness Tracker?
When it comes to pricing, the price for most standard fitness trackers can range between $40 and $100.  Usually, though, if you purchase a gadget for below $40, you will likely get yourself a subpar item boasting mediocre accuracy.
Kids' fitness trackers that cost between $40 and under boast limited functions. For instance, some less expensive trackers often don't feature a display and your kid can therefore not see the number of steps they have taken and would need you to check your Smartphone.
If you want to afford your kid some more interactive challenges as well as advanced tracking, you need to set aside something close to $60.
Finally, if you want to go for the top-of-the-line gadgets for your kids, you should be ready to part with $100 upwards. However, unlike the previous models, the latter options have numerous and more advanced features and boast as many features and functions as adult trackers.
In fact, the more expensive fitness trackers for kids can usually feature inbuilt GPS and optical heart rate monitors, and usually, these distinct features are typically customized toward exercise enthusiasts and athletes.
However, while doing your shopping, don't get engrossed in purchasing trackers with heart rate monitoring capacities if your kid's activity levels are not vigorous. Activities such as walking will be a rather unnecessary expense. If your kids are not into too much activity, and only walk around, there are some fantastic options that range from $49 to $150.
5. What Are Your Goals For Your Kids?
Although this is not usually the case for most parents, the most obvious factor you should consider first is the objectives you have for your kids. Before you endeavor to purchase these stunning trackers for your kids, it would be essential that you take into account the fitness mode you assume that your kids will probably engage in. In essence, take time to contemplate the activities you can expect from your children.
Essentially, you can set an exclusive objective like several thousand steps each day or subsequently set the number of average daily calories they should burn.  These are factors that should also guide your decision when you are selecting the right kid's fitness tracker.
The Top 3 Best Activity Tracker for Kids in 2021:
Now that you have an idea of how to choose the best kids' fitness tracker, it is only best that you have an idea of what options are available for you.  If you want to inspire your kid to be more active both now and in 2020, here are the best activity trackers for kids in the market:
1. Garmin's Vivofit Jr. 2 Tracker
Essentially, the Vivofit Jr. Garmin 2 is a second-generation fitness tracker (click to check the current price on Amazon). This device works almost similar to the adult Vivosport and Vivofit 4 versions. The Jr.2 Garmin counts steps and also tracks active minutes (overall moving time). Also, it monitors sleep.
As opposed to other standard kids' trackers, this device features Star Wars, Disney, and Marvel themes. All the trackers comprise a distinctly themed band not to mention a watch face. Ideally, when it is paired with a smartphone, kids can effectively play themed adventure apps linked to Disney, Marvel, and Star Wars themes.
Besides being waterproof, the Vivofit Garmin Jr. 2 is uniquely designed for durability and efficiency. Its band is designed from durable rubber and it is available in two ideal sizes mainly: a stretchy band (rubber) for relatively little children as well as a classic band designed for older kids.
Garmin introduced various fun games made for rewarding kids in reaching their daily activity objectives. Usually, when your kid accomplishes their goal, they are rewarded with an exclusively themed story and game. As they keep accomplishing their goals, they unlock some new watch faces and badges.
Its compatibility feature allows it to work with smartphones allowing you to track your kid's progress together. In fact, you can delight in various friendly competitions in an effort to see who among all of you in your family can accomplish the most steps. Moreover, parents can also make use of the app to establish and track their chores.
Typically, you can establish your own or subsequently utilize the pre-installed chores such as brushing your teeth or getting dressed. With each chore completed, your kid earns a coin that on accumulation, they can redeem for various rewards.
Battery Life
Finally, when it comes to its battery life, it can last about 12 months before requiring replacement. Its battery is a traditional coin cell type of battery. You need not worry about misplacing the charging cradle or docking platforms. Also, no broken cables, which is a big plus.
Pros:
Fun design; comfortable wristband
Rewards kids for achieving daily objectives
Interactive App games to promote kids fitness
Parents can create chore reminders
Cons:
Relatively dim display which can be difficult to read
Children may easily lose interest in playing various adventure games
2. Ace 2 Fitbit Tracker

The Ace 2 is a new Fitbit fitness tracker for kids (click to check the current price on Amazon). It has been standardized to be cheaper than the original Ace but with similar effectiveness.  The Fitbit Ace 2 tracker is waterproof, durable, and is available in various fun colors.
Although the initial Ace tracker device was comparable to the distinct Fitbit Alta, the Ace 2 version is purposely built to suit kids. It comprises a robust silicone band that is more durable than the standard metal band found on the first Ace version.
Usually, it adjusts well to your kid's wrist and has a more comfortable feel.  Additionally, with its waterproof design, your kid can wear it when swimming deep in a pool or the ocean.
This new Fitbit version tracks overall active minutes and steps inclusive of a distinct 1-hour active minute objective. Incentives such as fun characters and badges afford encouragement to not only go on being active but also get some more steps.
You can also set up bedtime reminders within your kid's schedule and program alarms to wake your kids up when morning comes. Similar to adult version activity trackers, this device also monitors nocturnal activity and sleep patterns.
Fitbit Ace 2 is also quite easy to utilize. With one-button navigation between screens, it simplifies operation. You can also change and customize clock faces.
You can sync the Ace 2 tracker to your phone. Essentially, the distinct Fitbit app boasts two views: a kid's view and a parental view.  The former allows your kid to view limited stats such as badges, steps, among other details. As for the parental view, you can effectively incorporate more than one kid to help you see your entire family under a single app.
Battery Life
Finally, the Fitbit new Ace 2 version lasts approximately 5 days before needing a recharge. Unfortunately, this device is not as effective as those that work on standard watch types of battery.
Pros:
Waterproof and durable
Swapped bands and fun colors
New cut-down price
Incentives to promote kids activity
Cons:
Needs recharging after only 5 days
It has no games
3. Leapfrog Leapband Tracker
In comparison to the aforementioned devices, the Leapfrog Leapband (click to check the current price on Amazon) is an exclusive activity tracker with more game-orientation. While it is relatively cheaper compared to most other trackers, this model is an attractive and colorful tracker which keeps children motivated to remain active.
Rather than tracking steps, this tracker motivates kids to establish a list of various physical challenges. After overcoming these challenges, they receive a currency known as 'jewels.' With this currency, kids can nurture a virtual pet they like by cleaning, clothing, and feeding it.
The choices of virtual pets include a dragon, cat, monkey, dog, penguin, panda, unicorn, and robot. Your kids can get rewarded with toys for engaging in various activities to ensure their pets remain happy.
The original watch features 10 pre-loaded games in addition to over 40 others which the kids can unlock through conquering various gameplay levels.  Moreover, with the distinct 'Pentathlon' app, the kids can also compete as their preferred pets in several unique mini-games.
These mini-games teach them about numerous things like nutritious and healthy foods which can inspire them to start eating healthier.
What's more, it features specific modes allowing parents to have total control when activated. These unique modes include Move Mode, Player Mode, and Quiet Time Mode. Besides this, when you sync the LeapBand to a computer, you can activate an app that enables parents to determine when your kids can gain access to the various play modes depending on their various age levels.
Pros:
Boasts interactive games to help kids get moving
Parents can effectively control the starting/ending of playtimes
Fun display
Teaches your kids about nutrition
Cons:
Bulky hence uncomfortable for kids to wear over long periods
Has no volume control provision
Conclusion
Without a doubt, fitness is essential for everyone! Essentially, you are never too young or too old to try and get better. Getting your kids to engage in various outdoor activities such as exercise, fitness, and even running among others need not be a challenging task in 2020 or any other year.
With the numerous fitness trackers, you can help your kids remain active while also having some fun. These devices not only tend to be robust, but they also render it easier for parents to keep track of their kid's activity levels.
However, in your quest to find the best kids' fitness trackers, you need to understand that these gadgets are not utilities that determine whether your kids get healthier and fitter. Ideally, they are just channels that facilitate the achievement of these results.
Moreover, it is also essential that you understand that having your kid healthy and fit is your personal. Children count on and trust you when it comes to health and fitness. With these 5 essential tips, not to mention the top products available, you should well be in a position to choose the best fitness tracker for your kid without any difficulties whatsoever.
Good Luck!
References Used in this Article